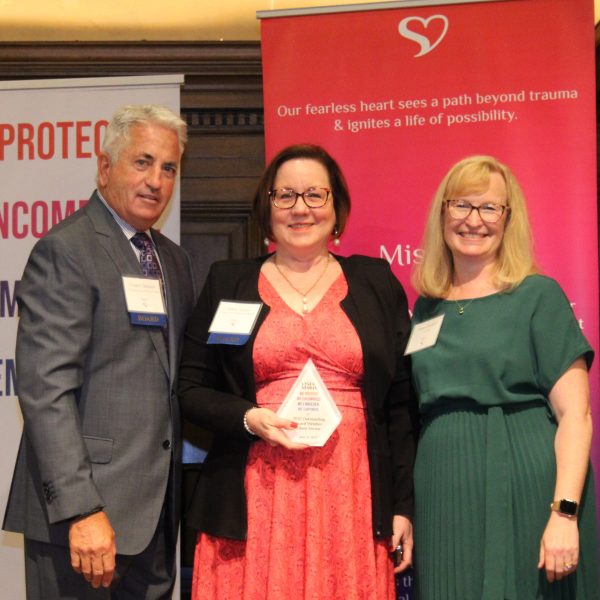 At Urban Science, our philanthropic and volunteerism initiatives are rooted in our collective commitment to build a global community that's inclusive, ethical and inspiring. And each day, all around the world, this commitment is personified by Urban Scientists who mesh our pledge to do so with their own personal passions. Today and always, we recognize and celebrate our team members who extend our mission of service to the places we live and work. The following is the story of one of our colleagues.
Meet Eileen Vernor 
This year, Eileen Vernor, director, wellbeing and HR systems, was awarded the Outstanding Board Member of the Year award for her volunteer work with Vista Maria, a Detroit-area nonprofit that helps girls, youth and their families realize a life beyond trauma and ignite a life of possibility by providing mental health services, foster care and adoption, and secure care for survivors of human trafficking. Joining the organization on a volunteer basis in 2014, Eileen serves as a board advisor – a role in which she attends bimonthly board meetings and represents Vista Maria in its surrounding community and fundraising efforts. She also serves as a member of the board-development committee, which recruits new board members to help guide the nonprofit forward, and as a table host for its annual empowerment lunch, an event that welcomes new supporters to Vista Maria's cause. Eileen also served as a member of the CEO search committee in 2022.
Vista Maria was established 140 years ago with support from Ford Motor Company as a home for girls and women in need and has since evolved into the renowned support resource it is today. The organization's holistic support offerings are developed through a trauma-informed approach — an understanding that all people have experienced traumatic events, yet it is through an understanding of trauma and restorative relationships that we instill hope and enable healing within each child and family.
"Throughout her nine years of service, Eileen has brought many blessings to Vista Maria," said Megan Zambiasi, CEO, Vista Maria. "Eileen consistently brings her expertise in human resource management, creativity and passion for Vista Maria's youth and families to the board table. She also supports the board in building their network of supporters and recruiting new board members through her vast network in southeast Michigan. We are grateful Eileen has shared her time and talents with us – we are truly blessed to have her!"
A career spent at the intersection of passion and purpose 
Eileen's work with Vista Maria is just one piece of a lifelong passion to support her community and those who call it "home." Eileen also volunteers with Impact100 Metro Detroit, a women's collective giving organization, as a board member and co-chair of the nonprofit's grant-review process, as well as host of its "Fueling Transformation" podcast, interviewing nonprofit heroes in metro Detroit. Through a rigorous grant review process, Impact100 Metro Detroit gives away two $100,000 grants annually to worthy nonprofits in Southeast Michigan. She also previously served as the Society of Human Resource Management (SHRM) Detroit president and chair of the program committee, overseeing all chapter operations, including its strategy for growth and programming, and supporting a team of 25+ HR professionals in planning education programs for the year.
It's in the family 
Eileen comes from a long line of volunteers. Her parents frequently volunteered with groups like the League of Women Voters and their church and local gardening club. But it wasn't until being laid off in 2011 at the height of the recession that volunteering became a main focus in Eileen's life; that's when she began doing pro bono HR consulting and business development and discovered Vista Maria. Eileen said this work not only gave her the opportunity to give to those in need, but also helped shift her perspective – from identifying primarily with her career to a changemaker with a higher purpose. This is an identity she continues to carry with her during her day-to-day support of Urban Scientists serving automotive industry leaders across our 20 office locations globally. Eileen also now provides free resume support and career coaching to people in transition. 
Eileen's husband, now retired, was a minister for 40 years and while serving his congregation he started two nonprofits in southeast Michigan: one being Fish & Loaves (one of the largest client-choice food pantries in the area), which allows people to come in and choose food independently, giving them control over what they take home. The other nonprofit, ChristNet, is a rotating homeless shelter and day center supported by 50+ churches in the Downriver area in metro Detroit.
"I simply can't imagine a life that doesn't include volunteering," said Eileen. "There's so much need in the world and even small contributions – whether through time or money, and even awareness – can make a huge impact on those who need a helping hand most." Volunteering is also a great way to network and meet people who have similar passions, and to develop skills you may not tap into within your day-to-day career functions. When you're volunteering, you're showing your true self – not a job title or any other number of boxes people are put into day-to-day, and that's something I deeply appreciate about giving back."
Thank you, Eileen, for all you do to drive positive change in your – and our – communities. Learn more about Vista Maria and Impact100 Metro Detroit.
Our company empowers our team members to volunteer through 12 paid volunteerism hours each year. Click here to learn more about our community efforts.