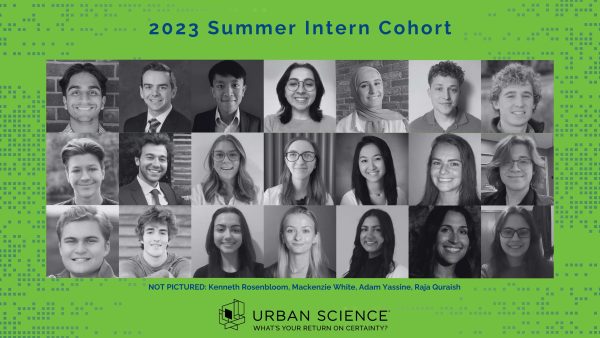 At Urban Science, our vision is a world in which innovation is driven by science and inspired by the entrepreneurial spirit to invent a better future. And we believe there's no better way to achieve this vision than investing in the growth, development and success of tomorrow's leaders – today. That's why we welcome a new cohort of paid interns to our company each year and invest significant time and resources in helping them learn about – and gain exposure to – their areas of career interest and new career pathways they may not have thought about otherwise. 
Our 2023 intern cohort by the numbers 
We're pleased to announce and welcome our summer 2023 internship cohort, comprising 28 U.S.-based interns across 11 departments and several office locations; three interns in the United Kingdom; two in interns in Spain; and three interns in Brazil. We're actively seeking two interns to support our team in Italy; click here to learn more.
The Urban Science intern experience 
We believe gaining a broad perspective – from a diverse range of people and experiences – is essential in positioning young professionals to achieve (and exceed) their goals in their personal and professional lives. To help promote our interns' success, we've developed a comprehensive program that engages them in a variety of activities and experiences, allowing them to work closely with – and learn from – our leaders, and to build meaningful relationships that last long beyond our summer program. Our program is all about delivering situations and support that guide our interns to future success while tapping the power of their unique skills, perspectives and experiences to continue to move our organization – and our industry – forward. In our experience, this approach creates opportunities for mentorship and growth through real-world experience that positions our interns to hit the ground running following graduation.
Beyond their work helping to solve mission-critical challenges within our organization and across the automotive industry, our company's interns participate in a variety of programs that promote knowledge sharing, relationship building and collaboration, including:
Lunch and learns: senior leaders and executives from different departments, including marketing, IT, HR and others, meet with interns to share their experiences, and to offer guidance regarding career success and more.
Internship networking program: this new program fosters meaningful conversations regarding goal setting, and identifying and driving toward future achievements, and creates peer-level networking and learning opportunities, by pairing interns from different departments and locations. By doing so, we facilitate valuable discussions in a virtual environment – across global office locations. Networking sessions are structured to promote an inclusive experience during which interns feel comfortable expressing their ideas and suggestions.
In late August, when this year's summer internship program draws to a close, each intern will present what they've learned, and share the challenges they've overcome, and their perspectives about their overall experiences, with an audience that includes peers and many of our company's senior leaders. Some interns continue with us on a part-time basis when the school year begins while others may be offered full-time positions or continue their professional journey elsewhere following graduation.
We'll continue to share stories and provide updates as the program continues throughout the summer and beyond. In the meantime, we encourage you to check out our current job openings for internships and full-time roles we're looking to fill. Click here to get started.