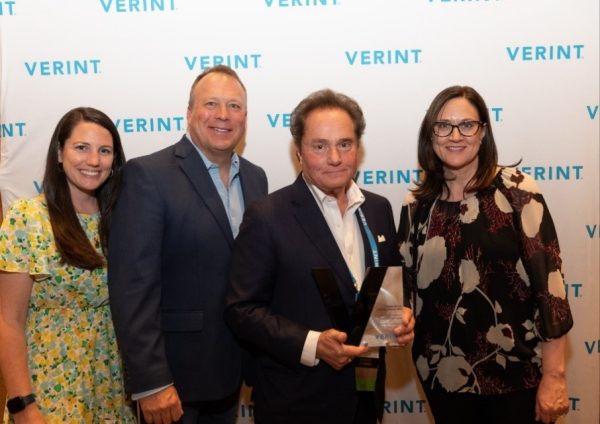 At our company, we pride ourselves on guiding the automotive industry through its many evolutions – and revolutions – through the power of our team of industry thought leaders and our unrivaled near-real-time industry sales data, and the solutions they power together. And through our commitment to delivering world-class service to our OEM, dealer and AdTech clients – one that's driven our organization and our clients forward for more than four decades. This commitment was recently recognized by Verint – a leading global customer-experience firm – in Las Vegas.  
In 2022, Urban Science achieved a record-setting Net Promoter Score (NPS) of 92%, well above industry and all-industry benchmarks globally. For reference, NPS is a widely used metric for measuring customer satisfaction – and the one we use to ensure we continue to deliver the levels of world-class service and support our clients expect from us.  
In June 2023, Randall Tallerico, chief marketing officer, and Susan Filipek, business metrics manager, attended the Verint Engage 2023 Global Conference to accept the Highly Commendable Award for Elevating Experience on behalf of our organization. This recognition symbolizes the tireless collective commitment of Urban Scientists around the world (on the frontline and in support roles behind the scenes) to creating top-tier customer satisfaction through the unrivaled data, insights and service we deliver to our auto industry leaders around the globe. 
"At Urban Science, our vision is a world in which innovation is powered by science and inspired by the entrepreneurial spirit to invent a better future, and our continued collaboration with Verint continues to move us forward toward achieving this vision," said Randall Tallerico, chief marketing officer, Urban Science. "Verint understands the scientific rigor and precision that drives our approach to supporting our clients and uses a similar approach in supporting us – allowing us to continue to elevate our clients' collective experience even further. We humbly accept this award on behalf of Urban Scientists around the globe and thank our colleagues and clients for their continued partnership and support."  
For more than 11 years, Verint has supported our company's client satisfaction by helping our team members identify, evaluate and engage in opportunities to continue to add value to client organizations based on client feedback, and to enhance Urban Science's ability to create business certainty for automotive leaders in even the most ambiguous market conditions. This strong collaboration continues to unlock new opportunities to enhance the service, capabilities and approaches we develop to solve our clients' mission-critical challenges, and to continue to lead the industry forward.  
Thank you to all of the Urban Science team members who play a role in delivering satisfaction to our clients.