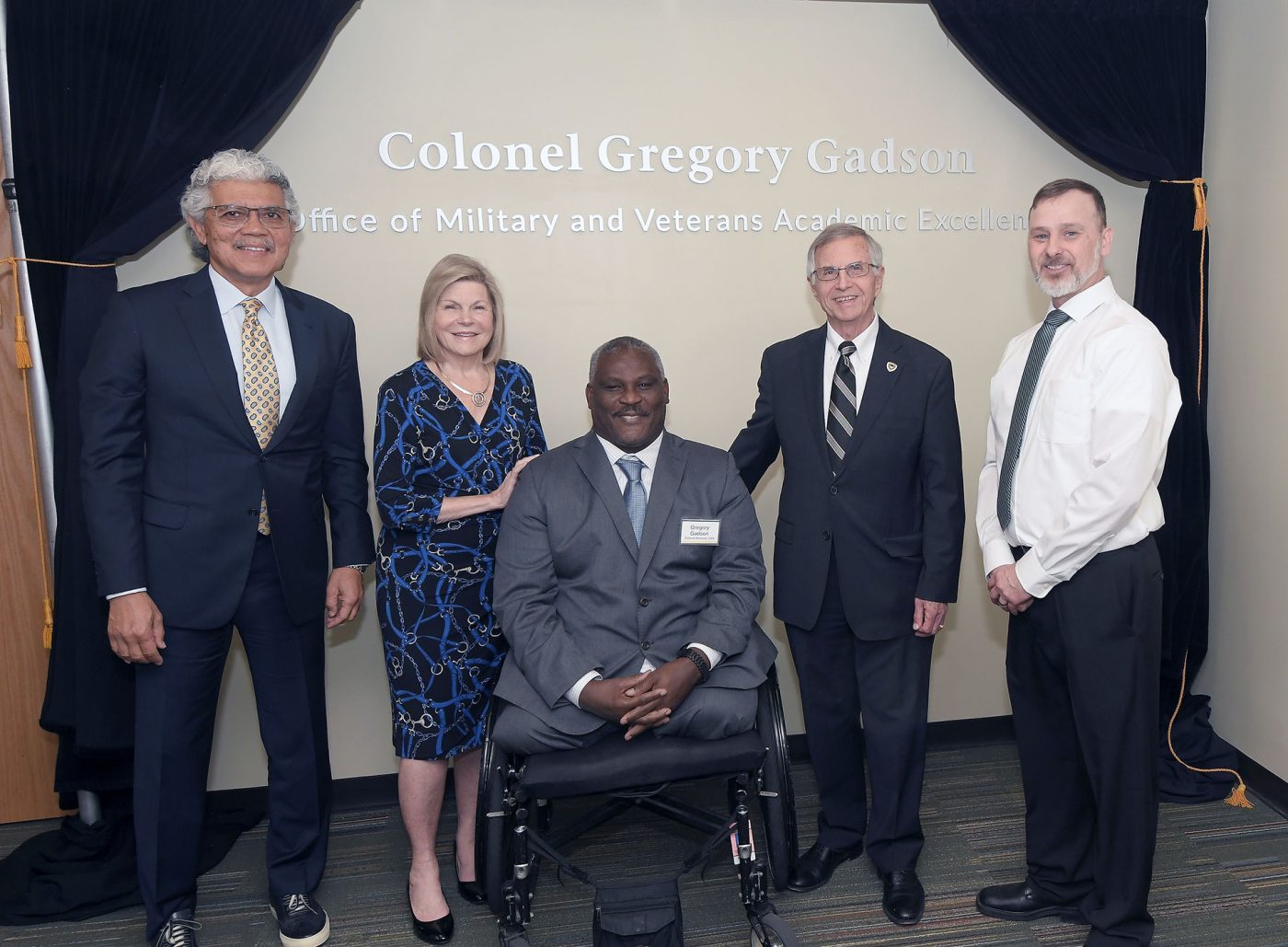 In late October, at a ceremony attended by Wayne State University military and veteran students alongside university leadership and faculty – and members of the local business and government communities – WSU unveiled the Colonel Gregory Gadson Office of Military and Veterans Academic Excellence (OMVAE), a dedication that was made possible by a $1 million gift from Urban Science Founder and President Jim Anderson and his wife, Patti.
Through this gift, WSU will continue to enhance and expand the programs, offerings and support delivered to its military and veteran students through the university's OMVAE – and continue to move toward its aspiration to become the gold standard for giving these students the holistic support and resources they need to succeed before, during and after their transitions from military service. The Andersons' gift also made possible the formal dedication of the OMVAE in honor of Colonel Gregory Gadson, an American war hero and leading advocate for disabled and wounded servicemembers.
"During my time as president of Urban Science for more than 40 years, I've witnessed firsthand the unique skills and traits American military veterans being to work each day," said Anderson. "As Detroit continues to manifest its tech future, these attributes will undoubtedly play a leading role in driving us all forward. As business and academic leaders, we must do our part to empower our veterans to help us write Detroit's next great chapters – and I'm proud to say through the dedication of the Colonel Gregory Gadson Office of Military and Veterans Academic Excellence, that's exactly what we're doing."
About Colonel Gregory Gadson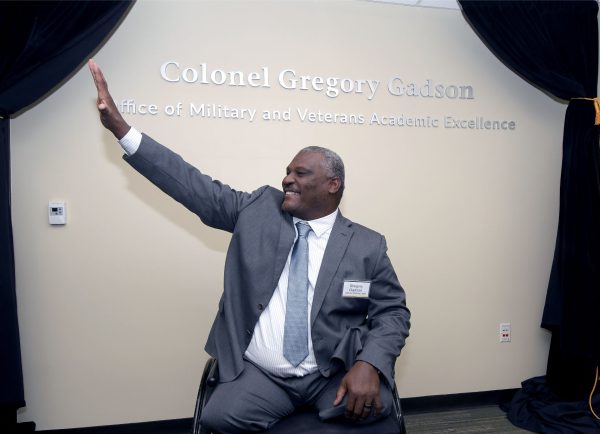 Colonel Gadson began his military career as a cadet at the U.S. Military Academy at West Point, where he played outside linebacker for the school's football team. Following graduation, he was commissioned as a second lieutenant of field artillery in the U.S. Army and served in various roles during Operation Desert Shield and Operation Desert Storm; Operation Joint Forge; Operation Enduring Freedom; and Operation Iraqi Freedom.
One night in Iraq, Colonel Gadson was returning from a memorial service for two soldiers in his brigade when his life changed forever: the vehicle he was traveling in was struck by an improvised explosive device. Colonel Gadson ultimately lost both legs above his knees, and normal use of his right arm, after receiving 129 units of blood and being revived by medics during six episodes of cardiac arrest following his injuries.
Jim Anderson first heard about Colonel Gadson when an Urban Science team member, a veteran of the U.S. military, sent a companywide email asking our organization's employees to pray for the colonel following his injury. After hearing Colonel Gadson's story, Jim felt a personal obligation to meet him to thank him for his service and sacrifice; in the years since Jim first met Colonel Gadson and his wife, Kim, they've formed a deep friendship and the Andersons have honored the colonel's service in many ways.
In the wake of Colonel Gadson's injuries, he could've given up, but he didn't. He worked relentlessly to regain the use of his limbs and to overcome the invisible wounds he sustained. And he doubled down on his lifelong mission of service to others by leading the U.S. Army Wounded Warrior Program; serving as a leading advocate for disabled and wounded service members; and sharing his story and inspiring others as a motivational speaker.
A hero by any measure, Col. Gadson has been awarded three Bronze Star medals, a Purple Heart and three meritorious service medals. He's also been authorized to wear the Combat Action badge and the Master Parachutist badge.
"One of my greatest honors in life is getting to know the Gadson family and I'm humbled Patti and I were able to play a role in dedicating this office in Greg's honor," said Anderson. "To quote Winston Churchill, 'now is not the end. It is not even the beginning of the end. But it is, perhaps, the end of the beginning.' I very much look forward to seeing all that current and future generations of Wayne State veteran and military students and alumni will achieve through the unrivaled resources and support they'll receive through this gift."