At Urban Science, we're dedicated to making a positive impact in our global communities. And one of the ways we do that is through STEM enrichment programs that create new pathways to engineering careers for underrepresented talent. Last month, our company's UK-Reading office had the pleasure of hosting 27 students from The Kendrick School – an area all-girls school – for a STEM-focused Business Insights Day that immersed these students, our future leaders, in our approach to automotive business science.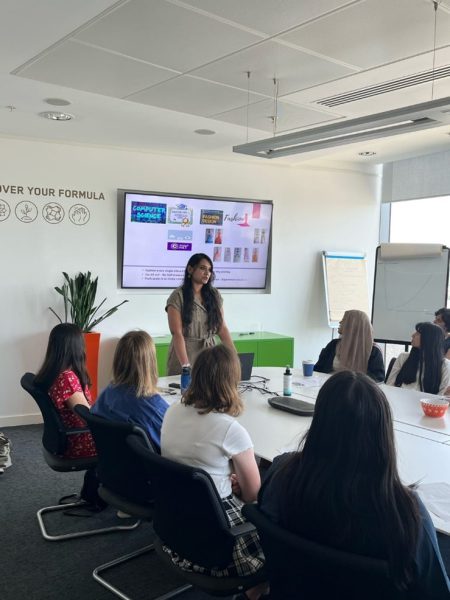 During the action-packed day, the students took a tour of the office, discovered how we transform market challenges into business certainty through our various science-driven solutions and also learned about our strong relationships with our clients, leading automakers in the UK and around the world. Additionally, these students gained first-hand perspective about the journey to – and through – STEM careers from UK-based Urban Scientists who know firsthand what it takes to thrive in engineering and other STEM disciplines. Our leaders' insights and experiences added a real-world perspective to what students often view as ambiguous and highly technical career paths, and opened doors for mentorship and growth in the future.
As the auto industry's leading problem solvers, we couldn't finish the day without challenging the future scientists to find creative solutions of their own. The students participated in a STEM-focused project closely related to Urban Science's automotive retail network planning business. The project tasked students with determining how many e-scooters will be needed in Reading by 2025. Along with a thorough analysis, the students were instructed to pinpoint locations for the e-scooters stations. In groups of five to six people, the girls presented their findings. The presentations were engaging, strategic and incredibly thorough – and although one team won, everyone delivered, and most importantly, learned.
"At Urban Science, our vision is to create a better future powered by science and the entrepreneurial spirit, and to fully realize this vision, it's critical that we engage young women in conversations about STEM and careers in engineering," said Helen McClure, human resources manager. "Our day with students from The Kendrick School was mutually inspiring and we look forward to continuing these conversations on a global scale."
According to the National Girls Collaborative Project, women make up only 34% of the workforce in science, technology, engineering and math (STEM). This is a statistic Urban Science is committed to increasing – and sustaining.  In the past two years, we have donated $50,000 to The Engineering Society of Detroit (ESD) Girls in Engineering Academy. Additionally, we have contributed to an endowment with the National Society of Black Engineers at Wayne State University, our founder Jim Anderson's alma matter. This is extremely important work to us and we look forward to continuing it across our global location.
About The Kendrick School
The Kendrick School, located in Reading, is an 11-18 selective girls' school with academy status. Since 2003 Kendrick has enjoyed the benefits of being a specialist school in Science, Mathematics and Languages; this ethos of specialism is reflected across all subjects including English, the Arts and Humanities, Music and Drama, Computing and Technology.