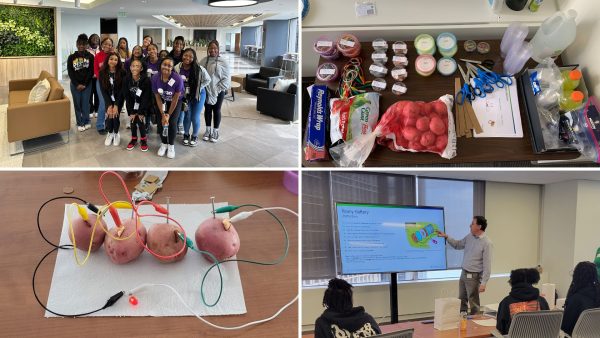 At Urban Science, our vision is a world in which innovation is powered by science and inspired by the entrepreneurial spirit to invent a better future. And we know our ability to achieve this vision begins and ends with continuing to give our next generation of leaders the knowledge, skills and support they need to thrive in science, technology, engineering and mathematics (STEM) fields that are often harder to find – and navigate – across underrepresented communities. That's why we continue to invest in leveling the playing field, and in building a more diverse talent pipeline by creating new pathways to STEM careers to help our future leaders – and our communities – reach their full potential.  
Despite women representing 50% of the college-educated workforce, they account for only 27% of professionals in STEM fields. And only 25% of STEM degree earners are Black or Latino. This data is rooted in several institutional, environmental and educational barriers and experiences that prevent underrepresented student populations from pursuing STEM degrees and getting their start – and ultimately succeeding in – STEM careers. This situation leads to a lack of representation and diversity in high-paying, high-impact STEM fields that continue to shape our city, state, nation and global community's collective future. We've long embraced our opportunity to create a more diverse STEM workforce through our long-time support of several likeminded entities, including The Engineering Society of Detroit Girls in Engineering Academy (GEA), to help underrepresented talent blaze new trails in STEM fields. 
GEA STEM immersion day @ Urban Science 
This summer, several of our company's Detroit-based team members hosted 13 students from GEA for a STEM immersion day. During the excursion, the 10th graders – girls who attend schools throughout the metro Detroit area – toured our headquarters in the Renaissance Center and learned about our company and its work to drive the automotive industry forward – from the heart of Detroit – since 1977. The students also engaged in a Q&A session with several women Urban Scientists – including executives – with STEM backgrounds and participated in a hands-on activity involving an essential element of the automotive industry's continued electrification: electric vehicle (EV) batteries.  
After the info session and Q&A, students gained valuable insight regarding the many career opportunities in STEM – after all, you can't be what you can't see – as well as the importance of internships and their positive impact on jobseekers' career paths through firsthand experience and networking.  
During their hands-on activity, the GEA students created three different types of batteries using zinc washers and copper pennies, and potatoes and cups of saltwater. The batteries all contained an anode, cathode and electrolyte – required elements in a functional battery. Each battery (potato, saltwater cup or penny) produced about two volts of electricity, enough to power a small LED light.   
"By sharing a mission-critical concept relevant to our company's business – and the automotive industry as a whole – the students gained foundational knowledge that prepares them to better understand electric vehicle batteries, a topic that will help them hit the ground running as they continue their studies in high school and beyond," said Tom Kondrat, advanced analytics global lead, and conductor of the battery experiment during the event. "This experience – and the passion of the students and Urban Scientists who made it possible – moves us one step closer toward creating additional opportunity we believe will promote a more diverse STEM talent pipeline in Detroit, and in turn continue to move our city and industry forward."  
This visit is just one of many ways Urban Science supports the next generation of women in STEM. We also carry out this important mission through our ongoing support of GEA, and by funding an endowment that fuels the Wayne State University National Society of Black Engineers Endowed Scholarship, among other initiatives.  
On behalf of our company and Urban Scientists serving automotive leaders around the globe, we salute The Engineering Society of Detroit and its GEA students for their tireless efforts to diversify the STEM disciplines. This is important work and we're humbled and grateful to support it.  
About The Girls in Engineering Academy 
The Engineering Society of Detroit's Girls in Engineering Academy (GEA) program, directed by Dr. Gerald Thompkins, is a transformative space that empowers girls, particularly girls of color, historically marginalized in STEM fields, to live their best lives. GEA encourages middle and high school girls to embrace their innate brilliance through STEM exploration. GEA is unique in that it focuses on the whole person by integrating STEM learning with a student-centered, hands-on, and project-based approach.  We focus on the total development of girls' minds and their natural curiosity to learn.  Through GEA, our Scholars are provided access to powerful STEM learning experiences that challenge them to think deeply and critically. As STEM learners, they are empowered to use STEM as a tool for personal and social change. Click here to learn more.