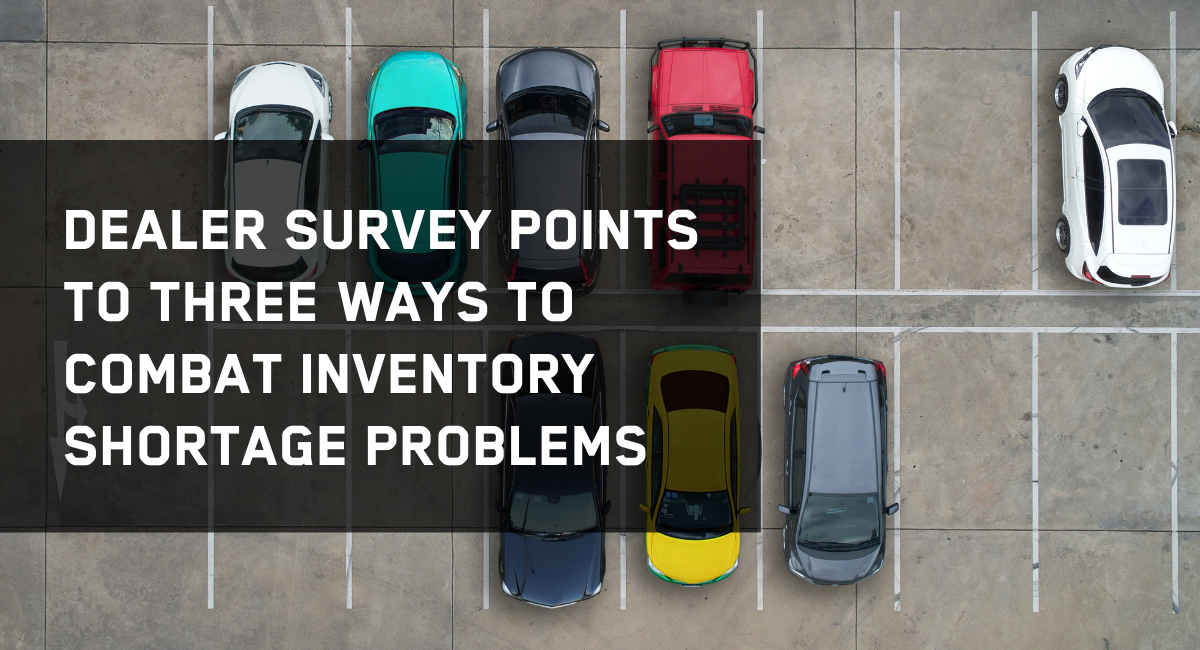 Exploring recent survey data from the Urban Science® COVID-19 Dealer Survey
This survey was conducted online within the U.S. by Urban Science to understand the impact of the pandemic on dealers and how they are evolving to fulfill the changing needs of consumers while remaining a successful business. Survey responses were evaluated for margin of error at a 90% confidence level.
While it is no secret that inventory shortages have become a common struggle for many U.S. dealerships, our recent survey data indicates opportunities can be found in an otherwise disadvantageous situation. Overall, dealers are recognizing that ongoing vehicle shortages are influencing consumers to increasingly use dealer website inventory to inform their decisions on which retailer(s) they will visit before making a purchase.
Below are three critical implications of the pandemic and actions dealers can take to turn them into opportunities:
80% of dealers report consumers are submitting leads from further distances based on inventory
As consumers become more willing to take a drive for the car they want, they become less likely to be loyal to their nearest dealership. This means dealers in strong inventory positions should expand their media and test drive incentive campaigns to reach further-out geographies. On the contrary, dealers with limited inventory should deliver test drive incentives to all consumers visiting their digital inventory pages to entice them into their showroom, even if they don't have the specific model that in-market consumers are looking for.
82% of dealers say inventory views have increased during the pandemic
The world may be upside down, but the fact than an increase in VDP views still correlates directly to an increase in vehicles sold is a good sign for dealers. Current industry trends indicate tight marketing budgets would be well spent on things like test drive or purchase incentives to help you convert active, in-market consumers by encouraging them to come in and test drive the exact vehicle they could be taking home. Test drive incentives continue to be a surefire tactic to getting more of your VDP viewers into your showroom, where you have a higher chance of closing the sale.
76% of dealers agree that consumers are more likely to buy the vehicle they submitted a lead for
Increasing lead close rates should give dealers reassurance to work their leads persistently and confidently. If there is a greater likelihood for people to purchase what they say they want, dealers should be mindful to not allow their competitors to steal a sale due to insufficient follow-up. They should follow up with their leads for as long as it takes to get in-market consumers into the showroom and into the vehicle. More specifically, this means salespeople shouldn't call it quits after seven days and should prevent leads from defecting during that critical 8-14-day period. If you get a customer on the phone, don't let them hang up without setting up an appointment to come in and take a test drive. If they're on the fence, lock in the appointment by issuing an instant test drive offer over the phone or in a follow-up email, such as a $25-$75 Visa e-Gift card as a thank you for coming in. For elderly, at risk, or just nervous customers, offer to bring the vehicle to them!
As we settle into the fourth quarter, supply concerns don't seem to be dissipating. While demand is certainly rebounding from the two months of production lost to the pandemic, pent up demand can contribute to even more of a scarcity of vehicles as automakers struggle to keep up and replenish outputs. More than ever, dealers need to continue to make the most of what they have by keeping the right mix of vehicles in stock to the best of their ability and taking advantage of incentive programs that they can control based on their own unique inventory situation.
As of last month, 2021 models accounted for only 3% of dealership inventory, according to Cox Automotive, compared to a quarter of dealer stocks being new models at this time last year. Therefore, OEM-sponsored clearance deals and incentive programs have been slower to materialize, calling for individual dealerships to take matters into their own hands and work with vendors that can help them convert more of their growing website visitors to actual showroom visits, test drives, and ultimately sales with more targeted and personalized incentives.
---
Originally posted on DriveAutoHook.com